Well Threepath, If "The Invaginarium" is not good enough for you as a new "Women Will Rule (and once did)" category alongside "The City" what about one for Techno-Skepticism or maybe better yet "Techno-Absurdism"? Its completely absurd and a bit sinister that there is no established school of the Techno-Absurd and only a limping along sect of Technoskeptics. How was that blind spot established and how has it been maintained?
Three top Technoskeptics are 1. Andrew Keen 2. Jaron Lanier and 3. Mo Reitman.
Andrew Keen is the Frank Zappa of TechnoSkep and can shoot logic bullets at his audience with aplomb. Jaron Lanier can play two flutes at once and wrote the intro to the new release of Ellen Ullmans book "Close to the Machine: Technophilia and Its Discontents". Mo Reitman created the Technoskeptic blog and does voice coaching.
Basically Techno Skepticism gets near zero press of any kind compared to its opposite Technomania (perhaps) or Technobozo (a clown insult) or Technophagia (eat me Tech). One way to explain this are the two words acceptance and acquiescence. Here for a memorable and practical review of the difference between the two words. "Acquiescence, in contrast, means "passive assent or agreement without protest."" "Acceptance is acknowledgement of the truth without judgement." - from the comments.
The current school of Techno-skepticism verges on the absurd because of its failure to get the point across (should be much easier than it seems) that a wide range of technology (not just WEB 2) is a rubber knife pressed into humanities accepting throat. We chuckle while the knife edge keeps pressing inward then as the blood flow to our brains slows to a trickle from the slow, near painless compression - we will shut down. Andrew Keen does a great job but seems to be frustrated by the difficulty of convincing the techno-addict society their heroin ain't no good.
I think an absurdist take on Techno-skepticism is the only way to get people to grab the knife and take a bite out of it.
I just happen to be relatively familiar with the the ancient Mualang language used in Southwestern Borneo (Kalimantan). One word in this language seems to be perfect for biting that rubber knife. "Tekakak" which means "laugh continuously with various sounds" - "Tek" is self explanatory and "akak" has many different paths to the blade. My favorite being Tim Burton's alien one syllable language in the movie "Mars Attacks". Ak AkAk AkAkAk!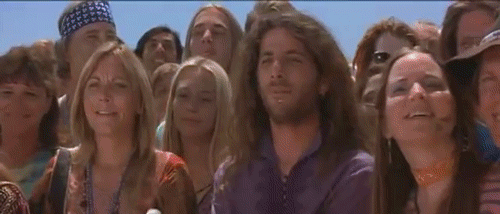 I can't think of a better "category" for us Blackhooligans to post all our pent up technoskeptic musings.